Year 4 Woodpeckers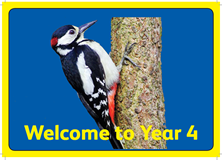 An Amazing Roman Day
We have enjoyed an exciting day, dressed as Romans whilst creating our own helmets and painting our shields. We then found out how the Romans made mosaics and designed our Roman mosaic patterns.
A special visitor to see Year 3 and Year 4
We were very lucky to have a special visitor in our school on Friday 5th October. Tamara Yellin told us all about her Jewish faith to help the children's understanding of Judaism as part of the Religious Education curriculum. She showed the children many Jewish artefacts and explained some special Jewish customs such as Shabbat.
Year 4 visit to Murton Park where we spent the day experiencing life as a soldier in a Roman fort. We made oil lamps and completed writing using Roman letters. We also took part in marching drills and weapons training. It was an amazing experience, which has brought to life our writing in the classroom.
Welcome back to a new school year and an exciting year ahead in Year 4.
As part of our Stormy house project, we had the pleasure today of trying out some Japanese Calligraphy with a woman called Muzuzu, who has flown all the way from Japan to help be part of the project. We had the brilliant opportunity to try out some of our own calligraphy using the proper equipment, we also learnt how to correctly write Spider and Insect using the Japanese symbols! Here are some pictures of us in action!
To finish off our topic of farming and sustainability year 4 took a trip to Hartsop in the Lake District. Here we were met by the farmer Jimmy, he showed us the land which he farms on and explained how he managed to do so. The landscape was vast with hillside as far as the eye could see, we got to explore this beautiful scenery learning lots about farming along the way. We even got to hold a baby lamb which has only been born a few hours before. We had a brilliant day and to top it off the weather was glorious.
As part of our Art and DT this week and to link in with our topic Farming and Sustainability, Year 4 have been building scarecrows from recyclable farm materials. We used wooden frames, which were old bits of a gate, we used straw and sheep's wool to stuff our scarecrows with and we used bits of plastic found in a farmers field to make the head. We worked in 3 groups to create Sassy Sally, Bob and Captain Pirate! We had a fantastic afternoon being creative and working on our all important team building skills. Here are some pictures of us in action!
The snow came to Haworth and caused chaos. We decided that we would go on a nature walk to see what we could see/hear in the outdoor classroom. We then thought we would have a snowman building competition on the field. We used all of our traits for the Bronte Brain- Resilience, Effort, Challenge, Learning something new and most importantly working as a Team! Here are some pictures of our spectacular snowmen!
Our topic this half term has bee the Ancient Egyptians. Year 4 were lucky enough to take a trip down to Cliffe castle, to take part in a master class based on Mummification. Each child had a part to play in this gruesome process.
There were 7 steps we had to follow:
First, we had to use a hammer to break the nose and then used a hook to pull out the brain through the nose!

Secondly, we then made a cut in the stomach to remove the organs and leave them out in the sun to dry.

Third, we washed the body in wine and spice so it didn't smell.

After that, we then scrubbed the body in Natron which is a salt so it would absorb any moisture in the body.

Then, the heart went back in the body and the other organs went into canopic jars.

Next, we wrapped the body in linen cloth and applied up to 20 layers!

Finally, the body is now ready for the spells to be cast and the body to go to the after life.
This was a tough process but our amazing Year 4's managed to follow the instructions thoroughly and mummify the body.
This week we have been learning to divide 2-digit numbers by a 1-digit number. We have started off the week by using equipment such as base 10 and place value counters to show how we do this and using the inverse to check our answer. We will then be moving on to drawing this method and then by the end of the week we will all be masters of division and will be able to use the formal method!
For our community week we focussed on the schools within Haworth. We compared the old Haworth board school with our primary school. We walked down to the old school and spent part of the afternoon sketching the building, focusing on the shapes. We then walked back up to our primary school and sketched this also. After that, we were able to look at the two and discuss the similarities and differences between the two.
To link in with our topic work on the Amazon rainforest we have been investigating the pros and cons of deforestation. Throughout our English lessons we have looked at persuasive letters from both sides of the debate and formed our own opinion. The class split into two sides, for and against deforestation and they argued their points across. At the end of the debate the class took a vote and it was voted that Year 4 are against deforestation.
Our trip to the Gurdwara.
This half term we have been learning all about the Sikh faith, we were lucky enough to take a visit to a local Gurdwara in Bradford. We learnt a lot about the faith and were able to find out what it is like in the Sikh place of worship.
At the beginning of this half term we had a rather large visitor! The whole school had a WOW basketball day where Paul Tiny Strugess came to visit, he was a massive 7ft 8! Paul played basketball for the Harlem Globetrotters and is the tallest basketball player in the world. In the afternoon year 4 were lucky enough to have a basketball session with him! Here are some pictures of the activities we were doing.