Year 3 Kingfishers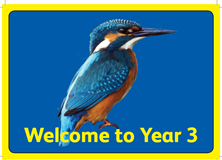 Autumn 2 2018Enter text...
Fantastic Roman Day!
Kingfishers and Skylarks enjoyed a Roman day at school to celebrate the end of their topic. The children and staff enjoyed making Roman shields, helmets, tunics and Roman mosaics. They learnt a song about the Romans which they had great fun learning BSL to communicate the song, as well as singing it.
A special visitor to see Year 3 and Year 4
We were very lucky to have a special visitor in our school on Friday 5th October. Tamara Yellin told us all about her Jewish faith to help the children's understanding of Judaism as part of the Religious Education curriculum. She showed the children many Jewish artefacts and explained some special Jewish customs such as Shabbat.
Year 3/4 visit to Murton Park
What an amazing time we had being Roman soldiers for a day!
We learned about how the Roman Army was formed, why it was so successful and about the many different skills and jobs a Roman soldier would have to do.
Welcome to the Kingfisher class page!
We hope you have had a wonderful summer and are looking forward to an exciting school year. Please keep an eye on this page for regular updates from our class!
If you have any questions, please feel free to see me after school or make an appointment with the office.
Mrs Gurney, Mrs Brady, Mrs Dale and Mrs Marshall
Iqra Linking Project
On Wednesday 13th June, we were lucky enough to host a visit from Iqra, our linking school.
Our Kingfishers waited outside with a WELCOME banner to welcome our Iqra friends off their mini bus.
During the morning, we split into two groups. Miss Turver stayed in the classroom with half the children and we read 'The Hueys in the New Jumper' by Oliver Jeffers. We celebrated our similarities and differences, then worked with our linking partner to design our very own jumper together before drawing our self portrait. The other half of the class went outside with Mrs Feather to play circle games.
Next, we all walked down to Haworth park and had a picnic under the bandstand. It was lots of fun!
After lunch, we all played in the park while Miss Turver took small groups of children on a hunt up Main Street.
Finally, we walked back to school and surprised our Iqra friends with Eid cards we had made. Eid Mubarak!
What a fun day we had! We hope to see you again soon, Iqra!
Pudsey Bear!
To mark the end of term, we were privileged to have a special visitor in school this afternoon… Pudsey Bear!
To celebrate the launch of Children in Need 2017, we were one of only 20 schools in the country chosen to win a visit from Pudsey.
We had great fun!
Why don't you ask your Kingfisher about the hula hoop competition between Miss Turver and Emily? Emily and I could enter the Olympics for hula hooping!
The 5 K's
Following on from our visit to the Gurdwara, we explored the 5 K's relating to the Sikhism faith.
Mirror Games
As part of our Science topic, Light, Dark and Shadows, we learnt how mirrors work and how we can use a mirror to reflect light.
We were fascinated when we realised an image in a mirror appears reversed. It was great fun pretending to be each other's reflection!
To help us understand this further, we played mirror games. Ask us about these!
Gurdwara Visit
Today we were lucky enough to visit the Sikh place of worship, the Gurdwara, in Bradford. Our lovely Faith Leader invited us inside. First we took our shoes off and placed them into the shoe racks. One for the boys and one for the girls. Next, we looked at the Langar which is the free kitchen. Then, we went up into the main prayer hall. This is an extremely special place. Finally, we looked at some special artifacts.
Ask us what we have learnt!
Basketball WOW day!
Wow!
Today, we met Harlem Globetrotter and the world's tallest professional basketball player, Paul Sturgess!
This morning, we had a whole school assembly where we were first introduced to Paul - he had to duck down to get through the door! After that, each class had a basketball workshop with him. When it was our turn, we went down to our basketball court and split into two groups. One group worked with Mark and practised their basketball skills. We bounced the ball backwards, forwards and side to side and tried to perform a few tricks. The other group worked with Paul and took part in fun team games. We swapped half way through the session.
Finally, we had our photograph taken with Paul. What a fantastic day!
As well as puppeteers, our Kingfishers may be future basketball players too!
Thank you Paul and Mark!
Black Cat Theatre Company
To kick start our 'Shadow Play' topic, we were very lucky to have a visit from Diana from Black Cat Theatre Company. First, all the Phase 2 classes watched a fantastic puppet show of The Little Red Hen. Then each class had a special workshop in our classroom. We made our very own shadow puppets and performed our own little show!
I think Diana may have inspired a class full of future puppeteers!!
Welcome to the Kingfisher class page!
We hope you have had a wonderful summer and are looking forward to an exciting school year. Please keep an eye on this page for regular updates from our class!
Miss Turver and Mrs Feather.