Year 1 Blackbirds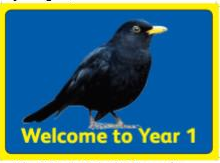 In Guided Reading, we have been reading Little Red. We made predictions about the book based on the soundtrack of the book trailer. We then read the book and plotted a graph to show how Little Red's feelings change throughout the story.
The title of our English book is Harry and the Bucketful of Dinosaurs. We have been sequencing the story and using the illustrations to help us become storytellers, retelling the story to our friends.
We have been practising our letter and number formation.
We have been learning to sort objects in different ways. We discovered that you can sort the same objects into lots of different groups. The transport could be grouped by colour, the number of wheels, where it is used (land, sea or air). We found many different ways to group the dinosaurs!
We use our best handwriting to write labels for our groups.
We have been making models of dinosaurs - we planned our models, labelled our diagrams and decided which materials we were going to use, then we named our creations!