Year 1 Blackbirds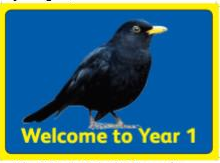 After reading Jack and the beanstalk, we planted our own bean seeds - just like Jack! We learnt about what they would need to help them to grow and checked on them every day to make sure they had enough water and sunlight. We kept weekly diaries to show how our beanstalks changed as they grew.
PHONICS
We are working hard on Phase 5 Phonics to help with our reading and writing skills. Here is a little snapshot of part of our phonics session this last week.
SPRING 1 2018
Welcome to Spring Term 2018. This term our topic is 'Moon Zoom'. We will be learning about space exploration and what it is like on the Moon. We will sample space food and also learn about the planets and their names. We will be listening to interviews with Tim Peake and learning about astronauts Neil Armstrong and Buzz Aldrin.