Year 1 Blackbirds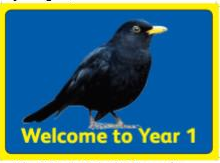 To commemorate the centenary of Armistice Day, Blackbirds learnt about the significance of the poppy. We made poppies out of card and buttons, we recreated a picture using the pointillism technique, we designed our own war medals and we wrote about the meaning of the poppy and why Armistice Day is such an important day. Daisy brought a book in to share with us that was written especially for children about the First World War. Willow brought her dad's medal into class to show the children. Blackbirds really enjoyed looking at and talking about these special items.
When Blackbirds came in to school this morning, they were surprised to see that they had gone back in time!
They spent the day being taught like the children were taught during World War One. They practised their handwriting, chanted the number bonds to 10, wrote their spelling words many times, and took part in drill lessons for PE. The boys thought that it was very unfair that they had to do more drill than the girls!
In 1906, the Education Act brought in school dinners. The children tried soup and bread – just like the children would have had during the war. Most of the children really enjoyed the food but some thought that it was awful!
SCHOOL DINNERS Lola " It tastes like gravy." Lucy C " I love it!" Macie " It tastes like curry." Lyla " Please can I have some more? I love it!" Kyle "Can I have some more - it was good, that's why I want more!" Henry "I want more - it tasted nice!" Harrison "It tasted like vegetables." WHAT DO YOU THINK OF THE CLASSROOM? Millie " I always dreamed of a desk like this!" Daisy B "Did they have that chart?" (Behaviour chart) WHAT DO YOU THINK OF THE MORNING SO FAR? Kyle "They (the children) weren't bad." Isis "It's different." Freya "Boring learning." Lyla "Grumpy!" Lucy C "Really good!" RATION BOOK Jessica "It tells you what you can have." Thomas "You are just allowed one (pencil)." DRILL Isis "I think the boys would have felt sad because they had to do more." WHAT IS THE SAME? "We still do writing." "We still do the register." WHAT IS DIFFERENT? "The dunce cap." "We use whiteboard pens" "Drill." "Not talking."
Blackbirds had a wonderful time at the Mandir today. We spent time last half term thinking about the places that are special to us and we learnt about why the Mandir is important to people of the Hindu faith. Seema showed us some special artefacts and told us about the shrine. The shrine was being decorated with flowers because the festival of Diwali is being celebrated next week.
Thank you to anyone who sent junk modelling materials in for Blackbirds. This afternoon (2.10.2018) we started making our dinosaurs in three teams. We had a great time reinforcing for strength, making sure they were stable and joining different materials. Stay tuned for the finished product once we have added scales.
In Guided Reading, we have been reading Little Red. We made predictions about the book based on the soundtrack of the book trailer. We then read the book and plotted a graph to show how Little Red's feelings change throughout the story.
The title of our English book is Harry and the Bucketful of Dinosaurs. We have been sequencing the story and using the illustrations to help us become storytellers, retelling the story to our friends.
We have been practising our letter and number formation.
We have been learning to sort objects in different ways. We discovered that you can sort the same objects into lots of different groups. The transport could be grouped by colour, the number of wheels, where it is used (land, sea or air). We found many different ways to group the dinosaurs!
We use our best handwriting to write labels for our groups.
We have been making models of dinosaurs - we planned our models, labelled our diagrams and decided which materials we were going to use, then we named our creations!