WELCOME TO YEAR 1 / 2 2016-2017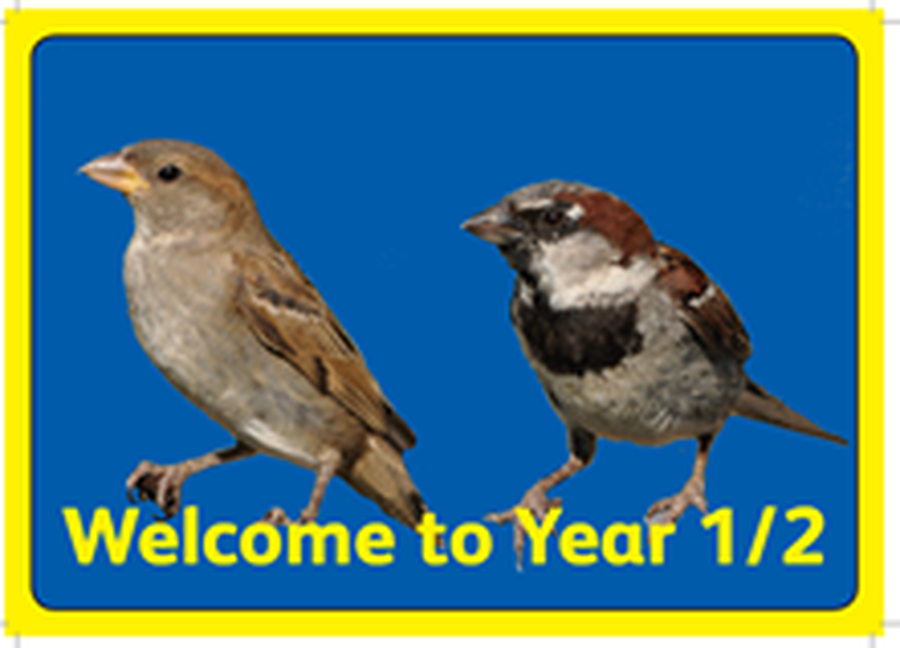 Yummy milkshake!
As part of our learning in English we are looking at instructions. We had to see how well we could remember our class instructions of how to make a milkshake. We did very well especially when we realized that the final instruction was to drink it!! After enjoying our delicious milkshake we had cut and stick the instructions in the correct order and add some time words: first, next, then, after that and finally. YUM!
Hindu Mandir
On Friday 3rd February Sparrow Class went on a trip to visit a Hindu temple in Bradford. It was a beautiful temple and we felt very lucky to have seen it. First we had to take our shoes off and wash our hands to show respect. Then we learnt about the shrine and we offered a gift of fruit on behalf of all of Sparrow Class. Next 3 of us dressed in some traditional Indian clothing. It looked different to our uniform but it was very interesting to see. After that we did 3 activities; looking at the different gods in the shrine, learning about Hindu weddings, exploring different objects which Hindu's use on a regular basis. Finally we got the coach back to school. We had a fantastic morning at the Hindu Mandir.
Milkshake instructions
In our English lessons we have been leaning how to write a set of instructions. First, we explored different recipes and how they are all similar. Then we looked at class text which was a set of instructions to make milkshake. We made some actions to help us remember the order. We had a competition for which pair could perform our instructions the best. The winners were Annie and Finn! Here they are...
Chocolate Experiment!
This afternoon we did a chocolate experiment. We wanted to find out how the chocolate can melt. First, we put it on the table to see if could melt...NOTHING. Then, we put it on some paper to see if it could melt...NOTHING.Next, we rested it on our clothes...NOTHING. We had a discussion about why we thought the chocolate button wasn't melting and we came up with the idea that it needed heat. So finally, we each put a chocolate button in our hand and squeezed. While we were squeezing the chocolate, Miss Short read a poem about chocolate... by the time it had finished there was chocolate everywhere! The heat from our bodies had made the chocolate melt. We licked the remains off our hand and discussed the result of our experiment. YUM!
Marmalade
A few weeks ago we had a cooking lesson and made some orange juice and marmalade. We did this by doing a lot of squeezing of fresh oranges. Today, we were able to try the marmalade that we had made and we spread it on some toast! It was delicious!!! We were very proud of ourselves.
Drama!
Today we had our first go at doing some drama work in English. Miss Short read the chapter about the chocolate room in 'Charlie and the Chocolate Factory' and we discussed how Roald Dahl had used adjectives. Then Miss Short introduced some magical Mr Wonka glasses. We had to use our imagination and pretend that we were a child entering the chocolate room for the first time. We each had a go and answered questions from everybody about what we could see in the chocolate room. We have some great imagination in Sparrow Class.
Bubble Painting
In our art lesson we came up with lots of ideas how we could get messy with paint. We thought that bubble painting sounded like a great idea! We made a mixture of powder paint and water and gave it a big stir. Next we put a straw into the liquid and blew. It made lots and lots of huge bubbles. Then, we carefully placed our paper on top of the mixture so the bubbled could pop. It made a lovely pattern so we experimented with different colours.
Outdoor Muck and Mess
We spent the afternoon outside with Mrs Brady to do some exploring. Earlier in the week we had looked at muck, mess and mixtures that can be found inside but this time we wanted to see some outside! We had to wrap up warm but we did find lots of muck and mess around our school! We used adjectives to create expanded noun phrases to describe what we could see.
Messy Morning!
On Monday 9th January, we kick started our brand new topic 'Muck, Mess and Mixtures' and our classroom became rather messy! When we arrived in the classroom there were 6 different activities set up for us, each with a different messy mixture. In small groups, we took it in turns to visit each mixture and complete an activity about it. We had to use our senses to explore each mixture and then use adjectives to describe them. We also had to think about what we thought each mixture was and who would use it. We came up with some very bizarre answers!
Here are some of photographs of our wonderful messy morning...
Winter Parcel
This week we have started to look at poetry. After looking at a range of poems and discussing their features, Miss Short told us that we would be learning about a certain poem. However, we didn't find out what it was straight away...we had to guess from some clues! The clues got our imagination juices flowing and we made some great predictions about what we thought the poem was going to be about. The next day we read it...it was called 'Winter Parcel'. We enjoyed it so much that we got into groups and made our own actions and performed them to the rest of the class.
BCFC Penalty Shoot Out!
Over the past couple of weeks, Sparrows have been busy bees and have been collecting sponsors for a football penalty shoot out. Last week the Bradford City team and Billy the Bantam came to Haworth Primary School and set up a goal in our school hall. It was great fun watching everyone trying their hardest to score a goal!
Anti-bullying week
Last week it was anti-bullying week. In Sparrow Class we talked about what it meant to be kind. We had some lovely ideas about how to show kindness to other people. We discussed what we thought a bully was and what we should do if we think that we, or anybody else is getting bullied. We agreed that is very important to tell a teacher! Afterwards, we sat in a circle and passed a bag round with everybody's name in it. One by one we pulled a name out and we had to say something kind about that person. It was lovely hear what kind children we have in Sparrow Class. Here are some photos of our circle time.
Visiting some of our local churches
In RE we have been discussing special places. At first we talked about the places that were special to us. We had lots of lovely places that we wanted to share with the class. Next, we learnt about a special place for Christians - this is a church! We found out what there is inside of a church and why Christians visit them. Some of Sparrow Class go to church on a regular basis so it was great finding out about their experiences inside of a church. To go alongside our overall theme of 'Our Community', we went on a walk to look at some of the local churches in Haworth. We visited St Michael and All Angels' church and Haworth Baptist Centre. We could spot some of the similarities and differences that we had spoke about in class!
The alligator eats the greater!
In maths we have been continuing to cement our place value number knowledge. We are learning to recognise smaller and bigger numbers. To show this, we have been learning about the 'greater than' and 'less than' symbols. We watched a funny video which helped us to explain that the alligator always eats the greatest number (we knew that this meant the biggest number). Here are two photographs of members of Sparrow Class putting what we have learned into action.
Community Week
The first week back from half term was community week! This meant that each class was learning something different about Haworth. Sparrow Class looked at how Haworth became the first fairtrade village and what that means. We started the week off with Rev. Chris Upton coming to visit us. He told us what fairtrade means and what Haworth had to do to prove it was worthy of becoming the first fairtrade village in the whole world!! We also discovered that within the fairtrade symbol there is a person reaching up towards the sky. We decided it looked like someone picking a banana.
The next day, we found out that Haworth is twinned with another village in Peru called Machu Picchu. It is a long, long way away from our village but we did notice some similarities. We each wrote a postcard to someone in Machu Picchu explaining what Haworth looks like and what we have here.
On Wednesday we went on our community walk and we were lucky enough to have some parents join us. We walked down main street and visited Haworth's fairtrade shop called Sonia's Smile. She was very friendly and told Sparrow Class lots of information all about her shop and the products that she sells.
After that, we took a longer route to go back to school. On the way back we collected some leaves and twigs. When we got to the playground we discovered that we had to create a ginormous fairtrade symbol out the leaves and twigs we had collected. Luckily, our super parents were there to help us and in the end our symbol looked fantastic!
We had lots of fun learning what it means to be fairtrade and why it makes Haworth such a special place.
Gardening
We were lucky enough to do some gardening today with Mr Thorpe. We had to wrap up warm because it is starting to get a little bit chilly! We had fantastic fun looking at the garden and all of the fruit and vegetables that everybody is growing. We talked about how important it is to eat fresh fruit and veg and the vitamins that help our body. Sparrow Class had a think about the different types of fruit and veg that we would like to grow.
Moon Buggies
Today we designed and created our own moon buggies. First, we looked at real life photographs of moon buggies and discussed what we thought was important to have on ours. Next, we got into groups and talked about how we should work together as team to create one moon buggy altogether. Finally, we used the construction resources to build them.
Where The Wild Things Are
In Literacy, we have been reading and learning about the story 'Where The Wild Things Are' by Maurice Sendak.
FIRST, we imitated the story. We did this by reading it lots of times, created and practised some fantastic actions to go along with the words and then we drew a story map to help us sequence the events of the story.
NEXT, we innovated the story. We did this by talking about the setting of the story (the island of the Wild Things!) and then we created a new setting for the character to go to instead. We sent Max to space! This time Max didn't meet the Wild Things, he met some strange-looking aliens...
FINALLY, we invented our own story. We followed the same structure of the story we had been learning about but this time we invented our own characters and setting. Sparrow class came up with fantastic stories with new characters going on different adventures.
Below are some pictures of the actions we created. We loved showing our terrible claws and roared our terrible roars.
The Space Dome
On Thursday 22nd September, we were lucky enough to have a travelling planetarium visit our school. We thought that it looked like a giant balloon! Zee told us lots of information about the sky above us and how it changes at night. We then watched a fantastic film which told us all about what is in space and our solar system. The space dome was really exciting and it got us thinking of lots of questions. It was a great way to LAUNCH our topic 'Moon Zoom'!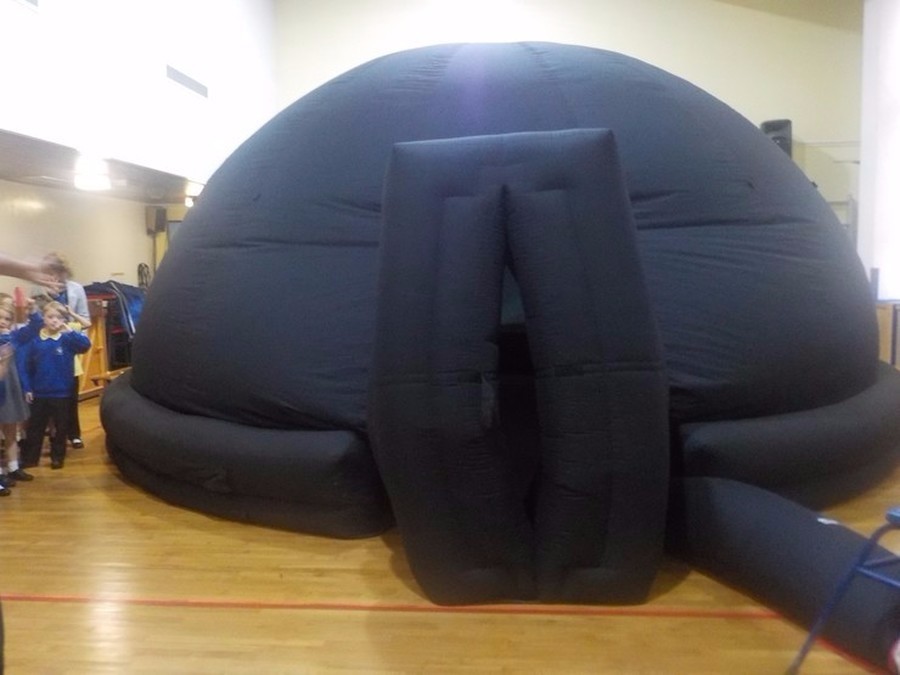 CRASH LANDING IN THE PLAYGROUND!
On Monday 19th September, Key Stage 1 had an urgent assembly. We had received a very important letter from Sergeant Fred Law at West Yorkshire Police explaining that there had been reports of unexpected flying objects over Haworth Primary School. Sergeant Law asked us to explore the school grounds for clues...
This is what we found...
Sergeant Law asked us to take photographs of the wreckage as evidence and collect samples of the different substances. Hidden beneath the wreckage was a sparky, orange alien egg! We carefully picked it up and kept it safe in our classroom. I wonder what is inside of it...
Hello Fred
On our first day back at school, we found a bear hiding in the cupboard and we decided to call him Fred. Fred had written a letter to us which asked us if we could take him on some adventures at the weekend. Sparrow class thought that this was a great idea! When it is our turn to take Fred on an adventure, we will bring him home in a bag with a book. The book is to write some fantastic sentences about our adventures and to put any drawings or photographs in. Everybody will have the opportunity to take Fred home. I wonder who it will be next...
This is Fred on his adventure with Miss Short. They did lots of baking together!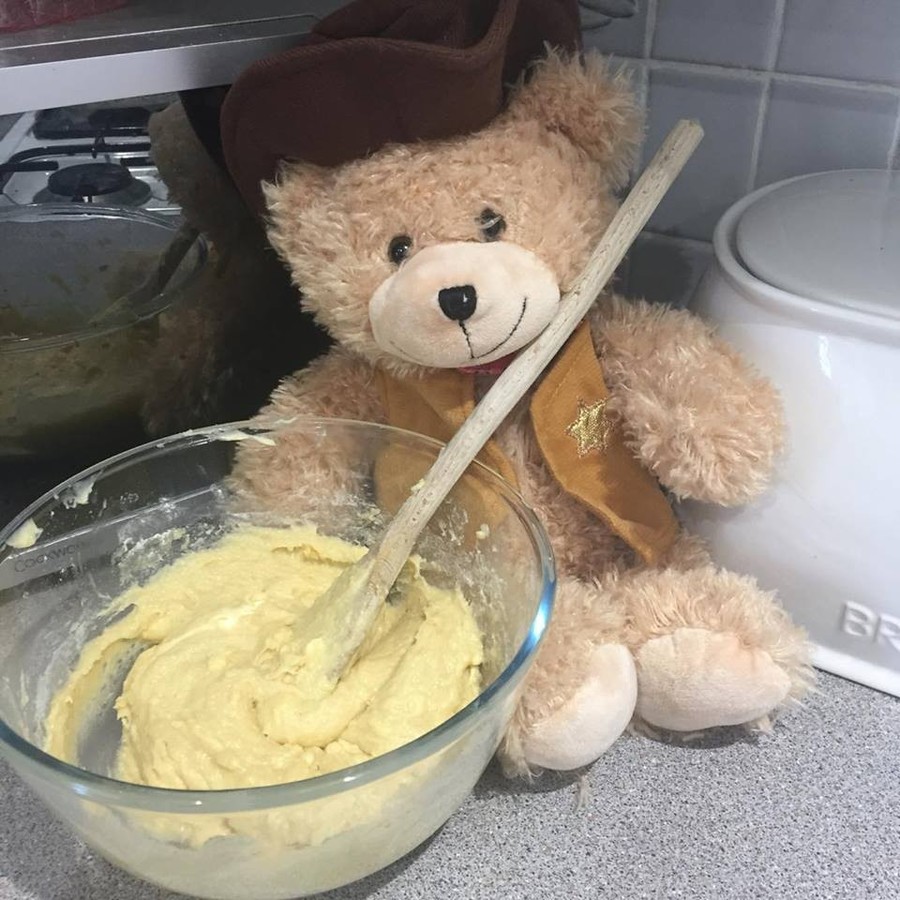 Welcome!
Welcome to a brand new school year and a brand new class. We are a mixed year 1 and 2 class called 'Sparrow'. I hope that everybody has had a wonderful summer and we are ready to start a new learning journey. Below, you will find our first newsletter. If you have any questions or queries then please feel free to ask.
Miss Short, Mrs Labbett, Mrs Callaghan and Miss Sharp work in Sparrow Class and we are all very excited to get to know everyone.