WELCOME TO YEAR 2 2016-2017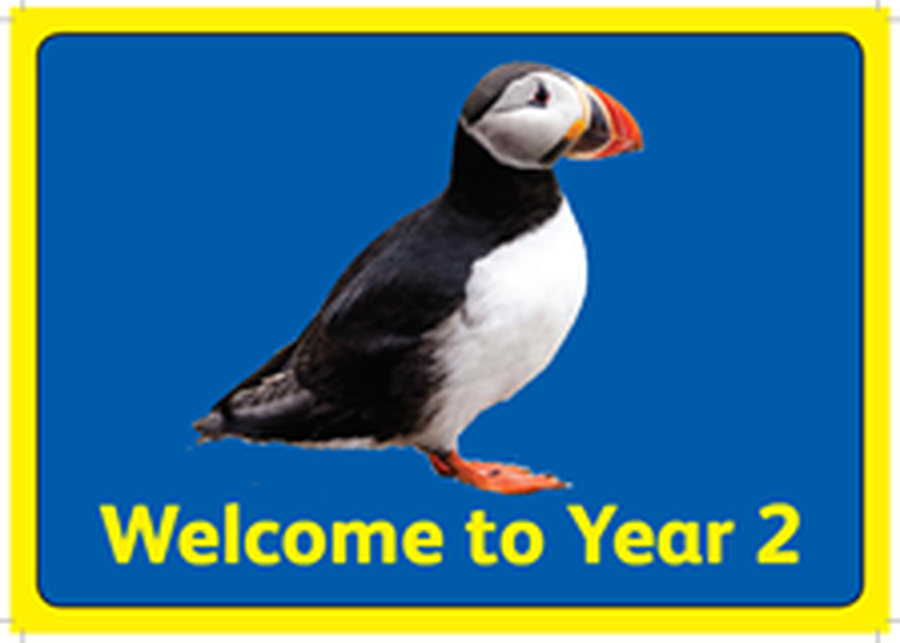 Welcome back
I hope everybody has had a restful and enjoyable half term break. We are back for the final half term of the year and we have lots of exciting learning activities planned for the remainder of the year. This half term our topic is
Beachcombers.
To start the topic we will be visiting Abbey House at Kirkstall Abbey on Friday 9th June where we will be taking part in 2 exciting workshops. We look forward to learning all about the coast of the UK and discovering the excitement of a beach holiday. If you have any questions about our learning please come and speak to me.
Thank you
Mrs Firth-Rymer
The Effect of Heat
Last week Puffin Class investigated the effect of heat on a variety of different materials. We used glitter, sugar, chocolate, flour and wax crayon in our investigation. First of all we made predictions about what we thought would happen when these materials were put in the oven, then we carried out the investigation.
We put the different materials into bun cases and then put them into the oven. We checked them every 5 minutes to see how they had changed.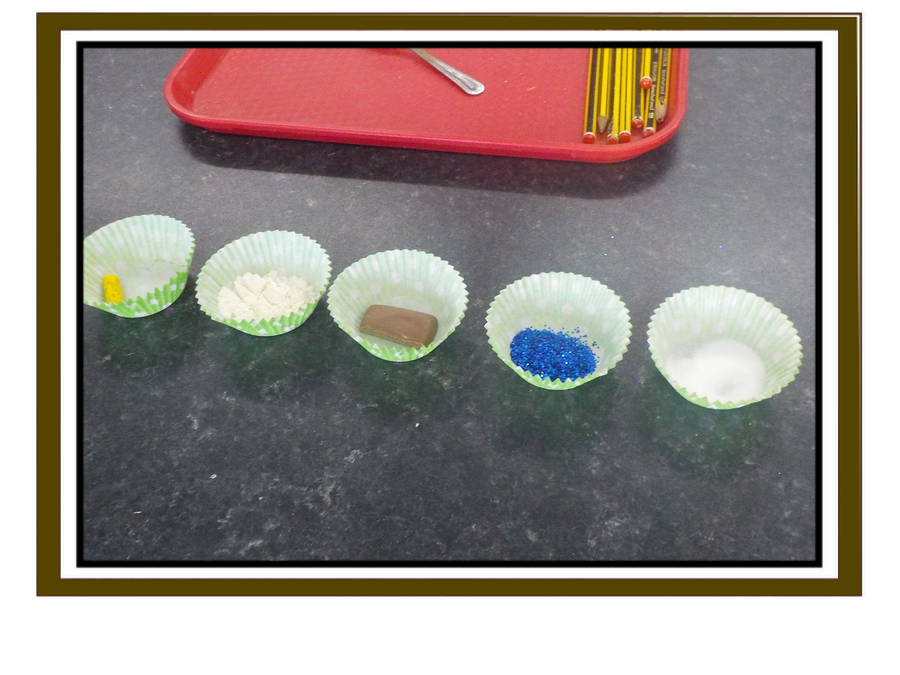 When we checked the materials we recorded how they had changed and compared them to our predictions.
What do you think happened to the different materials?
The Chocolate Experiment
As part of our topic we are investigating the effect of heat on different materials. The starting point for this work was chocolate! Mrs Firth-Rymer put a bar of chocolate in the middle of our circle and we discussed what would happen to it in our classroom.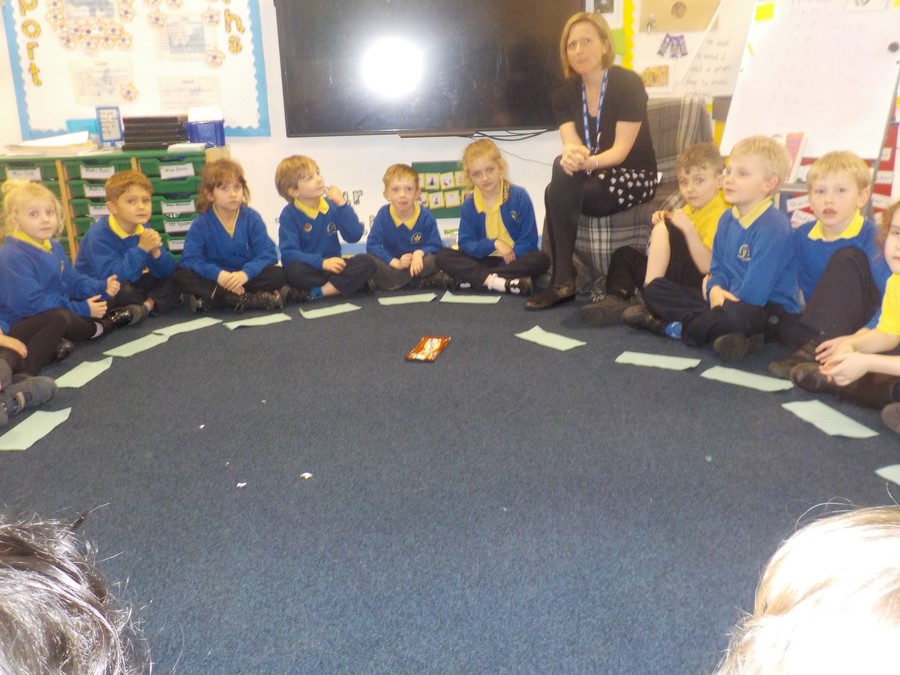 We decided that if we left it on the carpet nothing would happen. All our teachers then shared the chocolate making sure that each person had a piece. We thought that if we left it on the carpet it would melt in our hot classroom. However, we soon discovered this was incorrect.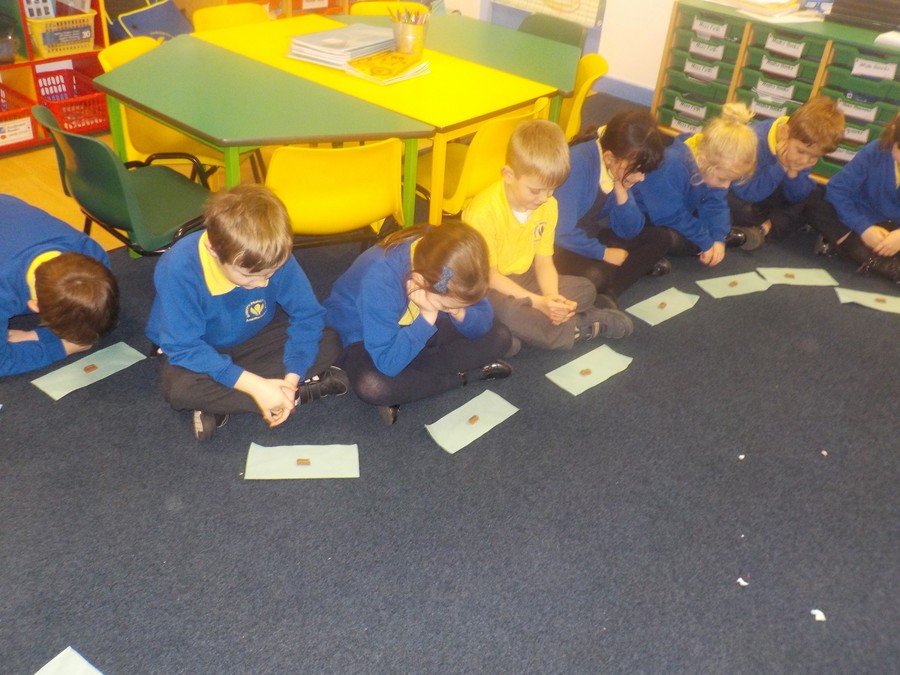 After discovering that chocolate would not melt in our classroom Mrs Firth-Rymer asked us all to hold our chocolate while she read a poem. In hardly anytime we discovered that the heat in our hands was melting the chocolate! By the end of the poem the chocolate had melted and our hands were very sticky. Through our discussion we decided that our hands wrapped tightly around the chocolate created a lot of heat and this is why the chocolate melted.
After our investigation we tested a piece of chocolate left in a classroom with a piece being held by somebody from Puffin Class. This ensured that we created a fair test, showing that it was the heat in our hands that caused the chocolate to melt.
Please find our class newsletter below outlining the learning for this half term.
Messy Mixtures Afternoon
On Wednesday 4th January 2017 Puffin Class became a Science Lab. We created 8 different activities for the class to explore, record and enjoy. This gave the children the opportunity to start our new topic in an exciting and engaging way. The photographs below show the classroom ready for the children with a description of the tasks they needed to complete.
The children worked in groups of 3 or 4 to explore each of the mixtures in the classroom and complete the tasks linked to each mixture. At the end of the afternoon we had a discussion about what we thought each mixture was. During this time the children were encouraged to explain their thinking. The pictures below show us all enjoying our afternoon and perfectly illustrate why we called it a Messy Afternoon!
One of our challenges was to create a model using Playdoh. These are the fantastic models we made. Do you know what they are?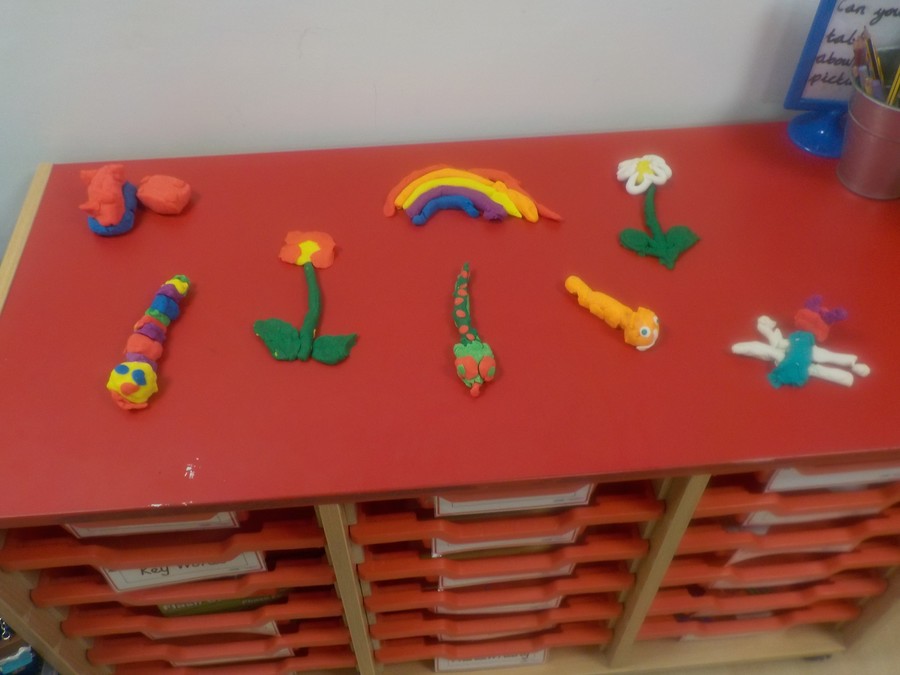 Welcome Back
Welcome back to school after what I hope has been a relaxing and enjoyable Christmas holiday. I hope that you have all enjoyed some family time and the Father Christmas visited everybody with some lovely presents. I am very much looking forward to hearing about the holidays from your children. This half term our topic is 'Muck, Mess and Mixtures' we will be investigating the changes that happen to different materials when they are heated or cooled and learning how to complete a fair rest. I will send further information to you very soon about this topic.
Happy New Year to everyone
Mrs Firth-Rymer
Information Leaflets
For the next two weeks Puffin class will be focusing on information leaflets. We will be looking at what is contained in an information leaflet and the important features of pictures and persuasive language. To help us with this we will be looking at leaflets for local attractions and places of interest for the children. We will then be using this information to write our own leaflets about Haworth.
Please encourage your children to talk about what is in our village and why people enjoy visiting Haworth.
Thank you Mrs Firth-Rymer
The Railway Children Walk
On Monday 31st October Puffin class set off from school on the 'Railway Children Walk'. Part 1 of the walk took us from the top of Haworth Main Street, to Oakworth Railway Station then back to Haworth Railway Station in the morning. After lunch we set off on part 2, from Haworth Railway Station, walked across The Goit to Oxenhope Station before walking back to school for the end of the school day. Along the route of the walk we saw many of the aspects of our local community that featured in the 1972 film of 'The Railway Children'. These include Oakworth Station, Mr Perks' Cottage and the house with 3 chimneys. We also discovered some of the history of Haworth and how our community has changed over time. We were joined on our walk by some of our parents. We had a fantastic time sharing our learning with our families and learning about our village.
Welcome Back
I hope that you have all had a lovely half term holiday. This half term Puffin class will be learning all about our local community and what is special about the village of Haworth. This work will begin with The Railway Children Walk, which all parents are welcome to join us on.
Please see the Newsletter below for information about the work we will be covering this half term.
Algorithms
Puffin Class have been learning all about algorithms. We know that an algorithm is a set of instructions to carry out a task. We worked with Mrs Brownless to write an algorithm for making a slice of toast.
We worked together to write an algorithm, then we followed the instructions. We found out that some of our instructions were in the wrong order or not clear enough. To help with this we learnt to de-bug our algorithm to ensure our toast was perfect.
Best of all, we were allowed to eat our toast, once we had finished.
The Alien Egg has hatched!
Puffin class arrived back in the classroom after lunchtime and discovered that the alien egg has hatched! Not only this but we had a letter from the owners of the spacecraft.
We were all very excited about the hatching, but we were worried about the alien baby and where they might be.
We talked as a class about what we needed as humans to survive on Earth and what would be the important items to add to a welcome to Earth pack. These are some of our ideas.
Love Food Water
Clothes and blankets to keep warm
A home A family
Travelling Planetarium Theatre Visit
On Thursday 22nd September 2016 we had a visit from Zee and the travelling planetarium. Zee introduced himself and showed us the planetarium, it was like a big tent!
We all went in to the dome and Zee told us all about the stars. He told us that if we look up in to the sky at night we will see the stars twinkling. If we look carefully we might also see some planets, planets do not twinkle and that is how we can tell the difference between stars and planets. After that we looked at the stars and discovered that if we look carefully we can see picture in the stars. Zee showed us how to join the stars together to create a picture, then we saw what the sky would look like if all the pictures were really in the night sky.
To end our session we watched and listened to the story of 'The Little Star'. During the story we found out about the planets in our solar system and all about the different types of stars that are in different galaxies. We are looking forward to investigating this further in our classroom over the coming weeks.
Crash landing at Haworth Primary School!
On Monday 19th September there was a crash landing in the playground at the back of school. Key Stage 1 had a letter delivered to school from Sergeant Law at Keighley Police Station explaining that there had been unexplained flying objects over Haworth Park and school fields. We were asked in explore the school grounds for evidence and clues.
This is what we found.
Welcome
Welcome back to school after the Summer. I hope that you have all had a lovely holiday with your children, friends and families. This year we have lots of exciting activities planned for your children and we are really looking forward to meeting our new class and finding out all about their interests and activities outside of school. We will be spending the first 2 weeks setting up classroom routines, talking about the school holidays and finding out about all our likes and dislikes. After this we will start our topic 'Moon Zoom' we will be focusing on space travel and how it has developed over the years. Please use the class newsletter below to find out about some of the activities we will be carrying out. If you have any questions please ask us, we are always happy to help and discuss your child's progress with you.
Mrs Firth-Rymer, Mrs Feather, Mrs ferguson and Mrs Karpuz